11 Amazing Plant Products
Nature never ceases to amaze me! We have around us so many amazing plants that can nourish our bodies from the inside as well as heal us from the outside, some even do both! I've gathered together some of my favourite plant products with a brief bio on how we can use them to benefit our bodies both inside and out 😊
Macadamia Nuts
One of nature's wonder foods (and there is a few of them), here's why:
The fat content of Macadamia Nuts is higher than other nuts and more than 75% of the fat is monounsaturated fat which has numerous health benefits.
Macadamia Nut Oil closely resembles the natural sebum in your skin, it is naturally emollient and contains squalene and oleic acid which assist with the repair of damaged skin, it can prevent wrinkles and other signs of ageing, and can rebalance cholesterol levels and neutralise free radicals.
It also contains linoleic acid (omega 6) which is protective, palmitoleic acid (omega 7) with healing and repairing properties and phytosterols which are also healing and calming.Oh – and they're good to eat too!
Coconut Oil
Coconut oil differs from many other vegetable oils in that it contains medium chain triglycerides (as opposed to long-chain triglycerides)
These provide numerous health benefits including assisting with fat burning and improved mental focus and performance.
It contains a high percentage of lauric acid which is known to have anti-microbial properties. In addition, coconut oil also has anti-inflammatory and anti-oxidant properties.
Coconut Oil is an effective moisturiser and is also great as a wound healer. And, also delicious 😊
Manuka Honey
Okay not actually a plant but I couldn't leave it out – this wonderful substance is absolutely incredible
Honey has been used for centuries for wound care due to its antimicrobial properties. When honey is applied to a wound it draws moisture from the tissues around it which reacts to produce hydrogen peroxide which clears the wound of infection.
What sets Manuka Honey apart is the additional presence of methylglyoxal (MGO) which also has powerful antibacterial properties making Manuka Honey one of nature's many little miracles.
In addition to wound healing Manuka Honey has been used to treat eczema, acne, burns, ulcers, allergies, urinary tract infections, reflux and sore throats – just to name a few! – and guess what? It's delicious too! 😉
Kukui Nut Oil
Kukui nut oil is a natural moisturizer that has been used for centuries in Hawaii…
(also commonly referred to as candlenut) it contains linoleic and linolenic fatty acids, vitamins E and C and lots of antioxidants which are all wonderful for reducing inflammation and boosting the immune system.
Kukui Nut Oil is readily absorbed into the skin, delivering nutrients, moisture and protection against the elements.
It is soothing for skin irritations, such as eczema and healing for wounds and burns. It can also be used as a dry hair treatment and to prevent dandruff.
Aloe Vera
The earliest recorded use of the Aloe Vera plant is in the 16th century BC by the Egyptians!
Rich in Vitamins A, E and C, it is most commonly used for burns, as a wound healer and to treat skin conditions such as psoriasis and acne, but Aloe Vera also has a myriad of other uses.
Some of these includ relieving heartburn, aiding digestion, relieving constipation as well as being great for oral health.
St John's Wort
Hypericum perforatum – used for centuries as a remedy for mental disorders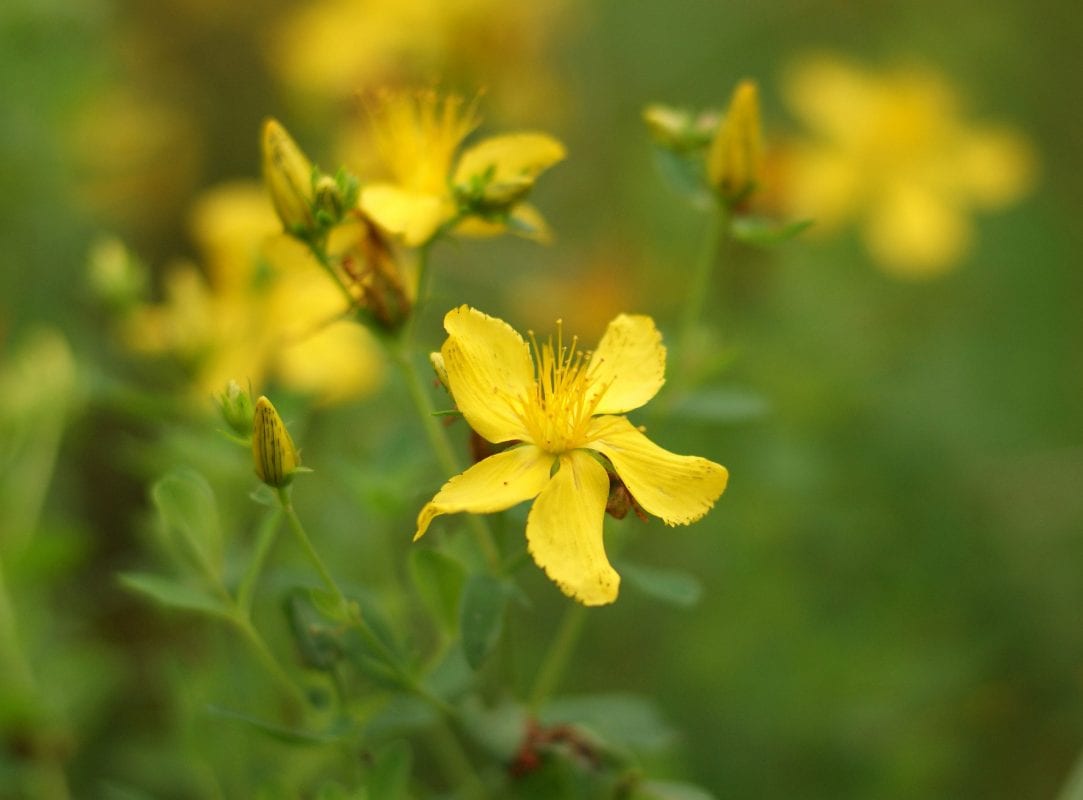 One of the most common herbal treatments today for depression and anxiety.
It is also a fabulous healer for the skin and can be used to treat cuts, burns and irritated skin.
St John's Wort also has hydrating properties and has been known to tone the skin and reduce the appearance of fine lines.
Sweet Almond Oil
(as opposed to bitter almond oil which is toxic) is a beautiful rich emollient oil
Loaded with Vitamin E a powerful anti-oxidant and perfect for ageing skin, it also contains fatty acids to help retain moisture and heal irritated skin, Vitamin A which is great for acne and as it absorbs readily into the skin can be used as a great cleanser for your pores.
Sweet Almond Oil also contains zinc which is a wonderful skin and wound healer as well as being great for hair loss.
Avocado Oil
Rich in Omega 3 fatty acids and Vitamins A, D and E
Avocado oil is not just good to eat but is wonderful for your skin as well.It moisturises and nourishes, it relieves inflammation and may be helpful to alleviate skin conditions such as acne, psoriasis and eczema, it accelerates wound healing, is great for sunburn, anti-ageing and also good for the nails and scalp.
If you don't have any avocado oil on hand you can also mash up some avocado flesh and apply directly to your face as a face mask – leave for 15 mins and wash off.
Oh, and they are delicious too!
Jojoba Oil
Jojoba Oil is actually a wax rather than an oil…
It closely resembles the skin's own sebum and is therefore readily absorbed deep into the skin tissue for long lasting hydration, packed full of vitamins and omega 6 & 9 fatty acids, jojoba oil is wonderful for all skin types including sensitive skin, acne and also dry, mature skin.
It has anti-bacterial and anti-fungal properties and has been known to relieve cases of eczema and psoriasis.
Evening Primrose Oil
In traditional medicine this oil is known to regulate and address issues associated with circulation
As well as hormones (specifically the female reproductive system), the respiratory and nervous systems. It is high in omega 6 and 9, palmitic acid and stearic acid which are all known for their ability to promote healing and reduce inflammation.
It is soothing and moisturising to the skin, hair and scalp, it promotes a healthy, clear complexion and reduces roughness, redness, dryness and irritation.
It can also reduce the appearance of scars. Another wonder oil that can be used both topically and taken internally. I love it when your skin care products are good enough to eat 😊
Calendula Extract
Calendula extract is made from marigold flowers and has some amazing health benefits, particularly for the skin.
It has anti-inflammatory, anti-septic and anti-fungal properties so is great to use for wound healing and to sooth any inflamed skin conditions such as redness, burns, acne, eczema and psoriasis.
It has sun protection properties, so a great one to be included in your daily moisturiser and can also help with hydrating and toning your skin.
All of the above plant-based ingredients feature in our range of natural body and personal care products. We believe you should not put on your skin something that you would not eat.